PSMJ: Rethinking Business Development
A core component in the PSMJ services offering is its comprehensive approach to marketing and selling of design services. Besides offering dedicated business development programs, success-based skills are embedded in other PSMJ programs, such as Project Management and Leadership events.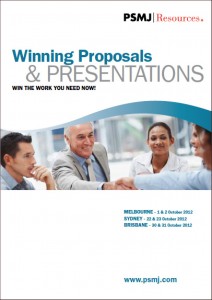 Winning Proposals and Presentations, a 2-day intensive program, is available in Australia / New Zealand on an in-house basis. For more information, contact Charles Nelson or Elina Bowron on +61.3.9686.3846.
For the best current thinking on marketing for design, subscribe to the PSMJ monthly newsletter A|E Marketing Journal.
In North America, PSMJ offers a special program, either as a public or in-house program: Get Work Now. For details and event dates, click here. 
PSMJ publishes several manuals on business development, including:
Winning Proposals: How to Build Proposals for Extreme Impact
Content Chemistry: An Illustrated Guide to Content Marketing
How to Get the Best Clients at the Highest Fees
How to Build and Maintain a Strong Client Base for Your A/E Firm
…
…